Gosh, has it really been that long? Affairs of the sore posterior
I can't believe its been so LONG since I've last updated.
Just a quick recap what has happened since the last time I've blogged:
1. I've lost 4kg
2. I've dyed my hair
3. My freaking exams are finally freaking over
Although yes I should be estatic that I'm finally free from the boring mundane regime of school life but strangely not as well.
The last paper was a few days ago, Wednesday, in fact. By Thursday, I'm already moaning and all out of sorts due to having ABSOLUTELY NOTHING TO DO.
Why? Why? Why? Isn't it great that you have nothing to do?!!! Hell you can now do anything you wish to and can loaf around as long as you like!
But it is a great belief of mine that there is absolutely no pleasure in having nothing to do. Pleasure is only derived from having something to do and
not
doing it.
Going to go cycling with sister now.Will continue when i return.
*********************************
*2hrs later
Well, I'm back. My butt feels soooooo sore now. This is the result of having too much rich food and pampering my fat bottom with too many cushioned seats. Cycled to Pasir Ris beach, watch people fly kites, lay back on the grass and stare at the sky and the poofy clouds and let happy Mr Sun warm me up.
My sis has just persuaded me to cycle to East Coast Beach tomorrow, I shudder to think of the ordeal that my butt will go through. I can still remember the last time I did, the journey home is lengthened by numerous stops to comfort it as the discomfort is getting more
discomforting...
but agreed grudgingly due to her commenting that when I stood up to cycle, my bum
wobbled
. This immediately bring to mind the image of my butt as jiggly as a bowl of jello. Naturally fear and horror of turning into one great lump of jello no matter which colour or flavour is the main motivator for tomorrow's activity.
Itinerary for the following 3 days:
Sunday - Cycle to East Coast in the day and Arab St at night for seesha with Humaize and Fabian.
Monday - A day of frolicking at Sentosa beach for Mary Jane Lambert's birthday.
Quote:Hither, come hither, and frolic and play. --Tennyson.
Tuesday - Watching Bridget Jones' Diary with Aliah
Hopefully 3 days in the sun with the aid of super strong sun tanning oil will baste me into a nice brown colour instead of the chalky white that I am now.
*********************************
Oh and yesterday I went out with Darren and Helaine!
Darren bought me to Sim Lim to buy the wireless device that can allow me to infrared my photos from my handphone to the pc instead of mmsing to my email and paying 50 cents each time I sent one.
Hooray!!!
This is me before the money-saving God sent gadget:
This is me after the money-saving God sent gadget: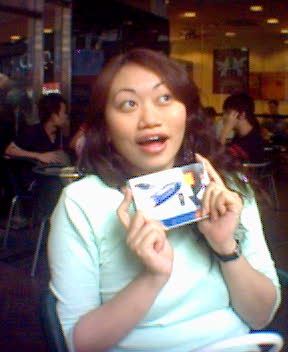 And then after that the eating spree begins.
The three of us walked from Bugis to the starhub centre at Plaza Singapura to accompany Darren to pick up something there and along the way, we make stops to eat once something delicious caught our eye. And yea, we shared all the food so we can accomodate more in our bellies along the way.
1. a plate of Char Kway Tiao and Mango dessert at Bugis (me and Darren only as Helaine is still at a ..goat farm dancing merrily on her bare legs to get in touch with nature and being a flower girl.)
Sorry for the digression but I couldn't resisit making a dig. Once she told me she's at a goat farm a vision of her in a floaty white dress sitting astride a white goat with a garland of wild flowers in her hair and a septre in her tiny hand appeared in my mind. And in that fantasy, she rode into the sunset with the whole herd of goats behind her while she brings the enslaved creatures out of captivity into a life of freedom and happiness...
Next.
2. Pesto cream pasta at Beach road
3. one delicious piece of pineapple tart (me only)
4.marble cheese cake at Secret Receipe at Plaza Singapura (highly reccommended.)
5.Dumplings and sweet and sour soup at Chinatown People's park complex. (the hawker beside OG, highly reccomended as well)
6.Tian Tan (Dessert soup) at another place in Chinatown.
7. Sweet pumpkin balls at Maxwell
All in the time range of 5 hours. It was marvellous as we can walk aroud and eat different kinds of food without the nasty feeling that we can't take in anymore.
Thus: We eat: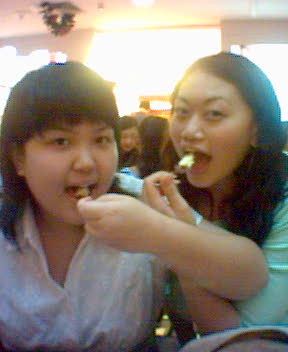 And eat..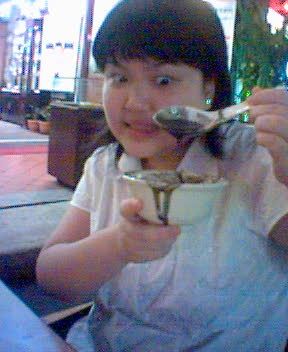 And eat..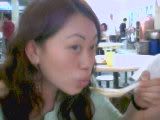 And eat.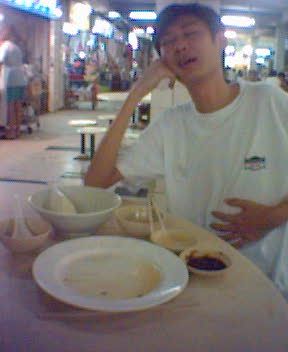 Which is why these 3 days of exercise is going to be soooo good for me.
Will update on the scale of 1 to 10 how sore my butt is tomorrow night when I get back.